Biting down on lollipop sticks – not very tasty. Chewing around on plastic cutlery? Not very appetizing either. That's not the only reason why products made of single-use plastic are being banned more and more in connection with our food. And yet we eat plastic regularly and will continue to do so.
According to a study by WWF and the University of Newcastle, Australia, we ingest about 2000 plastic particles through food every week1. We don't notice it because they are microscopic plastic particles, between 5 millimeters and just one micrometer in size. So-called microplastics. And that is a serious problem!
Microplastics damage the organism
How exactly microplastics harm the human organism and what diseases they lead to is currently the subject of lively research. International studies have already found microplastics in the stool, stomach, blood, placenta and lungs of humans. In animals, plastic particles have already been shown to trigger mechanisms that can lead to cancer. The particles have caused inflammation in the intestines of laboratory animals, presumably by disrupting microbiota. Tumors can develop as a result of this disruption. Studies also point to tissue changes or inflammatory reactions and toxicological effects, including internal injuries and deaths.
For us humans, the risk of health consequences from microplastics is particularly high when chronic diseases are present. While a healthy intestine may be able to ward off the consequences of ingested plastic particles, this works less well with already impaired defense mechanisms
But how exactly does microplastic first get into the environment, and then into the bodies of humans and animals?
One direct form of plastic ingestion is the consumption of mineral water. According to a study published in the journal Environmental Science and Technology, anyone who drinks the recommended 1.5 to two liters of water from plastic bottles every day ingests around 90,000 plastic particles per year. With tap water from glass containers, the figure is only around 40,0002.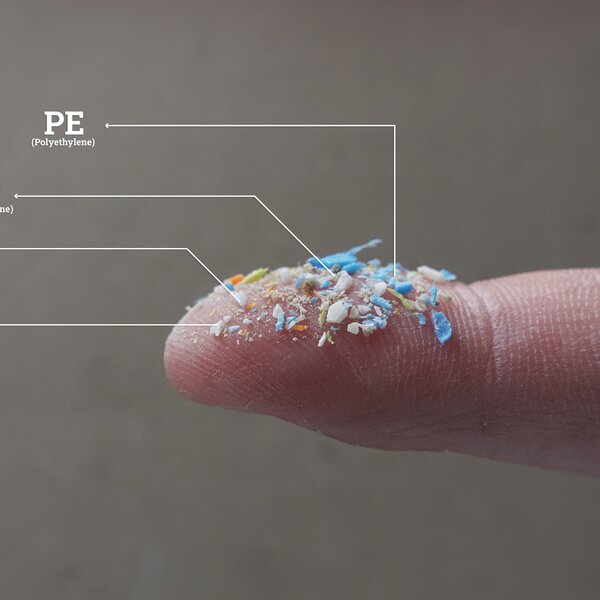 Microplastics are also regularly found in foods such as fish, shellfish and mussels. The risk of ingestion by humans is particularly high in the case of mussels, as they are eaten whole. In fish, the particles are found primarily in stomach and intestinal contents, which humans do not normally eat. But microplastics have even been detected in foods such as salt and beer.
"Microplastics are the invisible curse of the oceans, so to speak."
Robert Habeck
German Federal Minister for Economic Affairs and Energy
Our clothing is the largest emitter of microplastics
At 28 percent, the second-largest share of microplastics in the world's oceans comes from the abrasion of car tires. "For every 50,000 kilometers a car drives, six kilograms of plastic particles settle from the tires," Lukas Kenner, a cancer researcher and pathologist at MedUni Vienna and scientific director of the microONE project, told Deutsche Welle. The Fraunhofer Institute for Environmental, Safety and Energy Technology (UMSICHT) has calculated 1.2 kilograms of microplastic emissions per person per year from tire abrasion. But whatever size you take, the amount is extremely high.
The largest emitter of microplastics, however, is clothing made of synthetic fibers, such as sportswear or fleece fabric. Thirty-five percent of the microplastics in the ocean come from fiber abrasion from textile washing, according to a study by the International Union for Conservation of Nature. In Germany alone, a release of between 30 million and three billion synthetic fibers per year was calculated.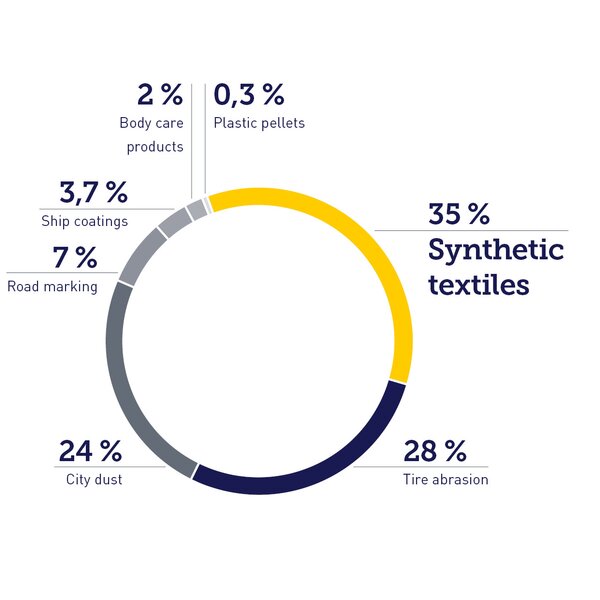 In terms of individual consumers, it is estimated that, depending on the type of textile, up to 3,000 fibers or 1.2 million particles can be released per wash cycle. In wastewater treatment plants, special cyclone filters and centrifugal force remove 99 percent of the small particles from our wastewater. For this reason, our treated wastewater is largely free of them. However, sewage sludge is heavily contaminated with it, and so microplastics can end up in fertilizer on our fields, get into our soils and ultimately be washed into the oceans via rivers. The fact that coastal waters are more polluted than the open sea indicates that synthetic fibers are predominantly land-based in origin.
Microplastic filters are an important solution for environmental protection.
To reduce microplastics from synthetic clothing via laundry, there is an obvious solution: filters.
In France and Luxembourg, for example, microplastic filters will be legally mandatory in newly sold washing machines as early as 2025. A similar regulation is also likely to be considered within the EU. In Germany, this is also being called for by the German League for the Environment and Nature Conservation (BUND). Naturschutzbund Deutschland e. V. (NABU) even says washing machine filters should be standard and that research into less abrasive synthetic textile fibers should be stepped up.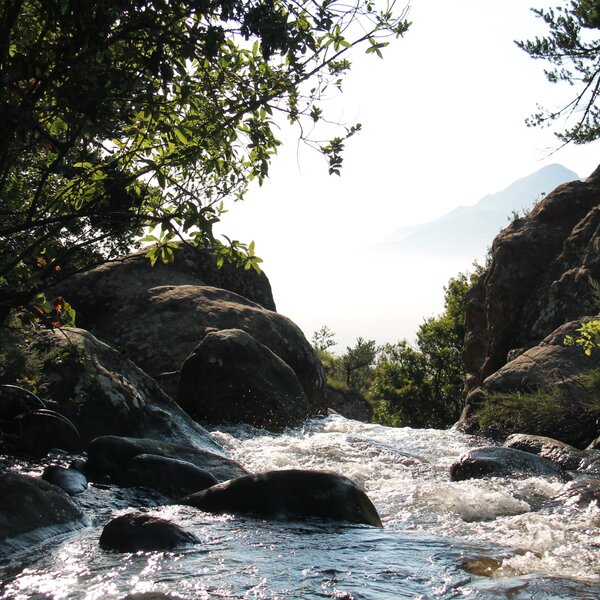 Hengst Filtration also wants to contribute to a clean environment
We at Hengst Filtration also want to contribute to a clean environment. As a filter specialist, we have decades of experience in cleaning liquids and air. Therefore, it was obvious that we also live our motto #purifyingourplanet in the household sector and have therefore been developing solutions for microplastic filtration for washing machines for some time.
If we can use our decades of filtration know-how to ensure virtually microplastic-free wastewater and thus a cleaner environment, that is a huge incentive for us.

Markus Lüersmann
Vice Head of Engineering
Together with universities and manufacturers of household appliances, Hengst is currently conducting very intensive research into solutions that effectively filter microplastics out of wash water while at the same time being as affordable as possible for consumers. There are a wide variety of approaches to these challenges that ultimately benefit the environment.
We humans can also actively avoid microplastics
But it is not only industry and politics that are called upon - every individual can do something to reduce the amount of microplastics in the environment. In the case of textiles, you can pay attention to what fibers the clothing is made of and also ask yourself for what purposes synthetic fibers are even necessary. Natural fibers such as cotton, silk or linen are better for the environment.
| | | |
| --- | --- | --- |
| Natural fibers | Semi-synthetic fibers | Synthetic fibers |
| Cotton | Lyocell | Acrylic |
| Wool | Viscose | Aramide |
| Silk | Modal | Elastane |
| Linen | Cupro | Polyamide |
| Hemp | Triacetate | Polyester |
| Jute | Elastodiene | Polyethylene |
| | Acetate | Polyimid |
| | Alginate | Polypropylene |
Especially with synthetic fibers, consumers should make sure to generally wash less and at lower temperatures. Defective clothing can also be repaired by tailors instead of being thrown away or bought new.
Everyone can also make a contribution to the second largest emitter of microplastics, car tires. The lower the speed at which we travel and take bends, the less tire abrasion is produced. So if you drive slower, you directly ensure less microplastic on the road.
So there are many ways to reduce the impact of microplastics on our environment. The key is surely a combination of our own (consumer) behavior and technological innovations. And that's exactly what Hengst Filtration will be doing in the coming years.
First product developments
Together with our development partner Miele, we are proud to present the first microplastic filter from the leading specialist for household appliances at IFA in Berlin. The stand-alone solution for washing machines impresses with a very high separation performance of harmful microplastics and is scheduled to be available in stores by the end of 2024.
In line with our vision of "purifying our planet," we are working very intensively on efficient and easy-to-maintain solutions for filtering microplastics out of wastewater from washing processes.