Our company's structure as an internationally established family business and our rapid growth provide the basis for stable employment. This has been repeatedly demonstrated during numerous crises over recent years, from which Hengst has emerged stronger without making any forced layoffs. And what's even better: there are plenty of benefits that make working at Hengst even more attractive.
Our perks include a fair compensation system with bonus payments, 30 days of vacation, and flexible models in terms of working hours and work location. Work and family life can be perfectly reconciled thanks to the company-run day-care center and the company restaurant. In addition, our measures to promote health, our corporate culture, and the many development opportunities within the company ensure a high level of satisfaction among our employees.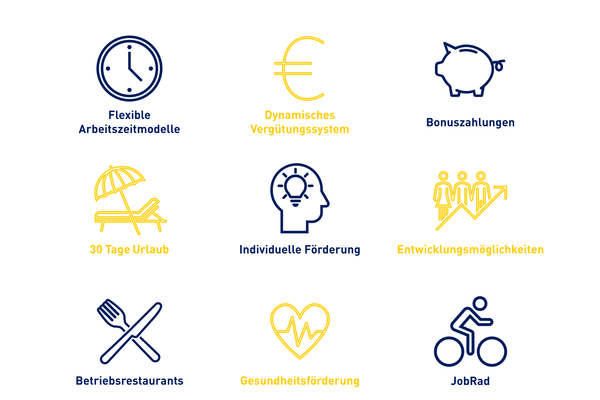 Your benefits at Hengst Filtration
Flexible working time models

We offer you flexible working hours and arrangements in terms of your place of work. Our site in Münster also has a company-run day-care center with 30 day-care spots. This lets you juggle your career, family, and free time perfectly.
Dynamic compensation system

Our compensation system is based on your qualifications and performance and is also readjusted every year – always in your favor.
Bonus payments

Annual goals are agreed upon together with you and are used to gauge your personal bonus which you are paid every year in addition to your salary. Hengst of course also has a company pension scheme in place which it supports.
30 days of vacation

Good work is only possible with proper rest. 30 days of vacation are a given for us.
Individual advancement

Sound individual training done across multiple divisions provides the perfect career launchpad. Our Hengst Academy provides you with a comprehensive range of opportunities for further training, both in-house and externally.
Development opportunities

From apprentice to instructor, from dual-studies student to team leader: these types of success stories are commonplace at Hengst. We promote your individual development opportunities through an open-minded, innovative, and motivating corporate culture and look forward to working with you over the long term.
Company restaurant

A large company restaurant in Münster and a canteen in Nordwalde: a fairly priced lunch that's healthy and delicious is essential for us.
Promotion of good health

Our employees are our most valuable asset. That's why establishing conditions to promote health are important to us and why we support health-conscious behavior. A few examples include:

Comprehensive range of occupational health and safety measures
Medical checkups by our company doctor
Flu vaccinations
Our BeFit bonus program with joint participation in sporting events
Our company sports club
JobRad

For many years now, Hengst has offered employees the chance to rent a bike or e-bike through JobRad. Favorable tax conditions make it possible for you to save up to 40 percent of the purchase price.
"Hengst Kinderland" company daycare center

Since 2008, Hengst has had its own daycare center, Hengst Kinderland, on the company premises in Münster. There, up to 30 children are cared for by our employees from the age of one until they start elementary school.

Due to this close proximity, there is a close exchange between the educators and the parents. Special features of Hengst Kinderland include the large outdoor area with many opportunities to play and hide, as well as our own gymnasium.
Onboarding@Münsterland

In order to ensure the best onboarding for new recruits, we are a member of theOnboarding@Münsterland network. . As a welcome service, it introduces you to the region and helps you get settled and stay here.
All job vacancies at Hengst
Intrigued? We're always glad to welcome new talent who are willing to promote our vision of "purifying our planet". All of our current job vacancies can be found on our job board.