DELBAG®'s range of products holds not only filter elements but also a series of duct air filters that are as innovative as they are proven. As a planner, you benefit from maximum flexibility. Due to the large number of possible variations, you will find a tailor-made solution for connecting the filtration to your specific ventilation system for every project. We draw on the full range of process engineering options for air filtration.
Product variants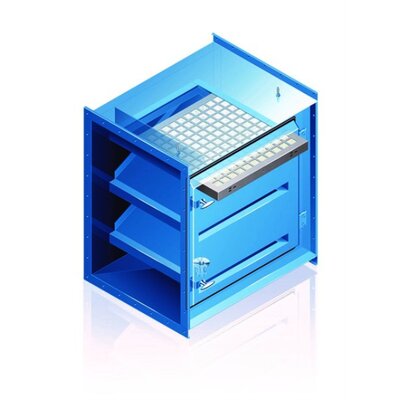 MultiClean
Air duct filters
The MultiClean system ensures clean air in a wide variety of applications. It is suitable for the separation of coarse, fine and suspended dust as well as for the filtration of oil and emulsion mists.
Oil tight filter housing

Suitable for filter elements, filter pads and HEPA filters

Multi stage filter configuration

Engineered for high pressure applications

Variants: KLG, KLH and MultiCase cartridge system

One- to four-stage filter models, with regenerable or non-reusable filter elements

Enclosures: in powder coated standard steel or in stainless steel

Flanges in 610 / 610 Euro modular grid dimensions

Fittings (¾") for removal of separated liquids, provided in standard models

Operation pressures: + 1,000 Pa / – 2,000 Pa, reinforced model: + 20,000 Pa /– 50,000 Pa

Use of pressure-shock-resistant model as redundant final filter, downstream of dust-separation systems, with Pred up to 1.0 bar
EBE
Air duct filters
As a universal filter support, the EBE duct air filter is suitable for holding a wide range of filter elements from the DELBAG® filter range and can therefore be used in many applications.
Applications: switch board and IT systems, libraries and museums, water treatment plants, safety filter and dedusting facilities, kitchen exhaust air and filtration of air-borne solvents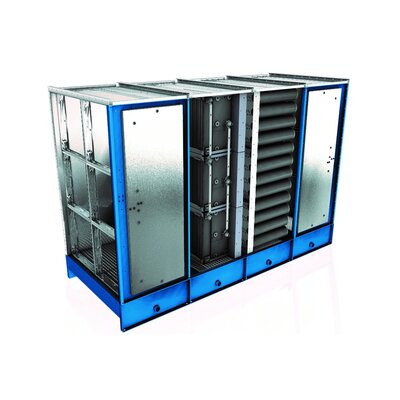 MultiMaster-Vario
Air duct filters
The air duct filter MultiMaster-Vario is sucessfully being utilized in general air treatment systems as well as process air filtration. Dry and liquid aerosols are effectively filtered.
Very durable technology

Premium framing enhances safety

Tightly bolted design fitted for activated-carbon filter units

Applications: process supply air, process exhaust air, general HVAC applications, gas & odour adsorbtion and kitchen exhaust air

Variants: GDB, MCB, KLW, MPW, CKG and fan module

Modular duct air filter system with universal application spectrum

Intelligent interfacing of various filter systems

Extensive applications: for example, process-air extraction, HVAC systems, supply and disposal of air to hall-type buildings

Innovative system that can be adapted to all requirements

A great diversity of combination possibilities

Designed in Euro modular grid dimensions of 610 / 610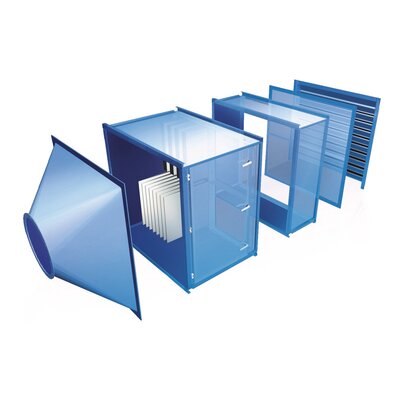 MultiMaster
Air duct filters
Whether supply air, exhaust air or process air: The MultiMaster universal duct air filter system from DELBAG® Air Filtration always ensures clean air. Where fine dusts occur or odors have to be eliminated, this solution offers a wide range of possibilities. Supply and exhaust air in air-conditioning and ventilation systems can be cleaned with this quality system, as can the process air in the production halls of manufacturing companies. The filter elements are held by proven wall frames and are fixed in a galvanized sheet steel housing. Various filter inserts of filtration classes G4 to F9 as well as activated carbon cartridges are available for application-specific equipment.
Applications: process air and production shop floor

Enclosures made of galvanized steel or stainless steel

Designed for indoor or outdoor installation

Large-size service doors that are easy to handle

Peripheral, drilled flange on the dust-laden and clean air sides, with Euro modular grid dimensions of 610 / 610

Fast and clean exchange of filters

Measurement points for pressure drop measurement

Also available as assembly sets

Extensive standard accessories available (e.g. pressure-drop monitoring DeltaTronic)
MultiSafe
Air duct filters
Whererever contamination control is the most critical requirement, DELBAG®'s high security filter system MultSafe will systematically protect against any viral, bacterial, radioactive, or any other toxic airborne threat.
For highest safety standards

System with gas tight casing

Tightness class D

Maintenance-free filter adjustment device

Applications: hospitals, food production, gene laboratories, isolation wards and nuclear facilities

For application of highest saftey standards

System containing a gas-tight and torsion-resistant housing

Tightenss class D according to DIN13779:2007

Operationally filter adjustment device

Filter leakage test during operation

Contamination free filter service

Decontaminable surfaces

Unit available in steel, powder-coated (RAL 9010) or stainless steel

Wide selection of filter units available

Optionally available in EX-proof design

Pperational pressure up to 6,000 Pa suction pressure