Filter cartridge
Filtration solutions for residential and commercial electrical appliances
Sustainability starts with product design. We have developed an innovative solution, proven in the automotive sector and now also in the household sector, where only the filter insert needs to be replaced and the housing is designed as a lifetime component. This significantly reduces the amount of waste.
The filter cartridge concept consists of two components
A sustainable concept that we have now applied to electrical appliances: The plastic filter cartridge is replaced by a lifetime frame and a flat pleated filter with a foam gasket. So when the filter is changed, only the flat pleated filter is replaced, together with the gasket. This also makes it possible to design a plastic housing of higher quality, since it is a lifetime component. The filter element can be custom tailored to the particular application, for example by making it washable or capable of higher filtration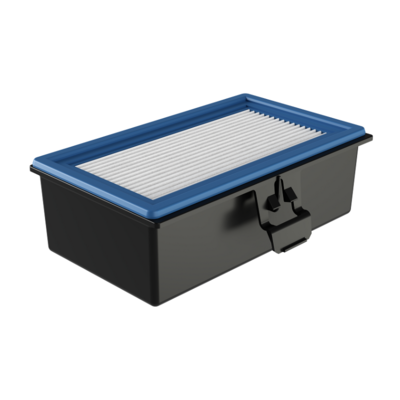 Advantages
Filter cartridge – Your customer benefit at a glance:
Very long-lasting filters with reduced requirements for replacement and service

Plastic housing is a lifetime component

Only the flat pleated filter with foam seal must be replaced during service

Lower waste volume, can be reduced further with optional washable filter elements

Resource-friendly recycled material as the basis for the frame

FSC-certification for the cellulose medium and the packaging
Components
Flat pleat filter

The flat pleat filter with foam gasket can be offered in different designs such as with different filter media or in different filter classes. The foam gasket is also available in different colors and different qualities (stability/hardness).
Plastic filter cartridge

The plastic filter cartridge can be offered in different plastics. It is possible to choose between different types of material (ABS, PP) or to use sustainable raw materials such as recycled or bio-based plastics. The service life frame, like the foam, can also be offered in different colors.
References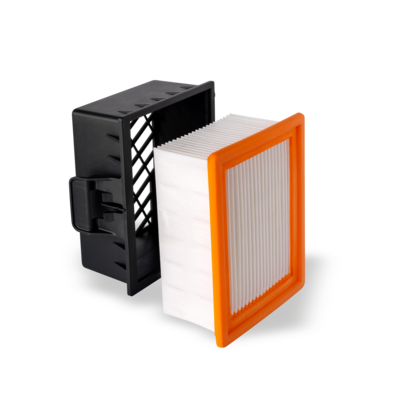 Main filter BSH
Plastic filter cartridge and flat pleated filter with foam seal

Very durable filter

Low waste volume

Optional washable filter element can also be used

High quality plastic frame

Use of plastic recyclates possible

FSC certification available for cellulose media
Customer
BSH Hausgeräte GmbH
Application
Vacuum cleaner
Model
Series 6 bag vacuum cleaner
Video
The replaceable filter concept by Hengst is another solution that meets the strictest requirements imposed on sustainable and resource-friendly filtration. The plastic filter cartridge for use in these appliances has been designed as a high-quality lifetime component. When a change is required, only the flat pleated filters including seal will be replaced – which reduces the amounts of waste substantially.
Contact
Do you have any questions? We're here to help.