MultiMaster-Vario
Separation of cooling lubricants especially oil mist and hall exhaust air.
The MultiMaster-Vario duct-air filter system is a highly convincing example here. This modular duct air filter system ideally matches your requirements. You have the following two options: to integrate only the filter modules with functional components into your system – or to install a complete filter system with enclosure and base plate or drain pan. The enclosure consists of steel (2 mm galvanized, or 3 mm powder coated), or stainless steel, according to requirements. The following filter systems are available: wall frames with the required filter elements, roll filters, electrostatic precipitators with or without mobile washing system, MultiCase Box mounting system, activated-carbon cartridges, and HEPA filters.
The MultiMaster-Vario duct air filter system is successfully used in general HVAC systems and in process-air applications. It reliably filters dry and liquid aerosols. Enclosures are available with base plates for dry aerosols, and with drain pans for liquid aerosols. The possible air flows cover a wide spectrum: up to 400,000 m³/h, depending on application and model size. The filter systems shown below are available for selection, and can be combined as required.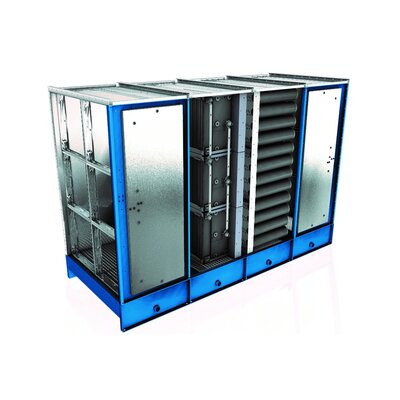 Advantages
MultiMaster-Vario – Your customer benefit at a glance:
Simple but very durable engineering

Premium framing makes it highly safe

Very tightly bolted design

Fitted for filter elements activated-carbon filter units