Compact and price-efficient fluid management is achieved by using a module housing, in which the interfaces from the various fluid circuits such as oil, fuel or coolant are used by integrating additional functions. The result: maximum flexibility while at the same time adapting the solutions to global markets. Performance-optimized designs can be installed in any installation and operating conditions. The lowest possible flow resistances are achieved by using short, cast connection channels and intelligent switching of the control valves.
Moreover, we are working intensively on the development of aluminum-plastic hybrid components: Thanks to our pressure die-casting and injection molding expertise, we possess the most important prerequisites for optimally implementing the ecological and economic advantage of this design. In this way, the end customer reduces fuel consumption and reduces CO2 emissions.
If you are looking for a particular solution or application, please contact us.
References
Fluid management for HDEP engines from Daimler
The multifunctional fluid management module allows the integration of numerous functions with space and weight saving outer dimensions - with the aim of complying with current and future emission limit values for utility vehicles and also ensuring high profitability and efficiency.
Type of product
Fluid management module
Model
3rd generation Mercedes Actros, Freightliner Cascadia, Fuso Super Great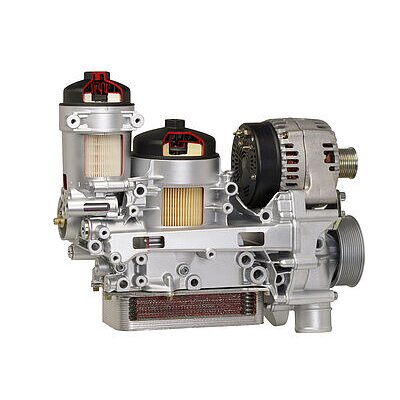 Fluid management module for TCD engines
Compact fluid management means the logical use of the space between the pumps, filters and cooling functions. The fluids are guided in the die-cast housing without hose lines or additional closure elements.
Type of product
Fluid management module
Engine(s)
Deutz TCD 2013-4V engines
Model
various construction machines, gen-set applications
Fluid management for MDEG engines from Daimler
The cooling agent-oil-module for MDEG engines is adjusted individually to the different engine power classes. It convinces by its extremely high functional density and comes with a full flow tube filter, a centrifuge (optional), a cooling agent pump, an oil cooler and is also equipped with a thermostat and a collection tank for the corrosion inhibitor.
Type of product
Fluid management module
Model
Evo-Bus, Freightliner, Thomas Built Buses, Fuso, Mercedes-Benz, and Unimog
Fluid management module for the H1 engines from Weichai
The oil module combines a high number of functions. In addition to the oil filter and oil cooler there is also an oil pressure control valve, for example. Moreover, an oil filter service valve, a filter bypass valve, a check valve, and the heat exchanger bypass valve are also integrated in the module. It is available with or without a lubricating oil centrifuge.
Type of product
Fluid management module
Engine(s)
H1 engine, WP9H/10H/10.5H
Model
6-cylinder inline engine / Shanqi, Sinotruck, faw, Foton, Dongfeng
Oil filter systems D20 and D26 engines
The oil filter system is a compact fluid management module using interfaces from the oil and cooling agent cycle by additional functional integration. A corresponding sensor system and various valve functions monitor and control the fluids with the oil circuits for the cylinder head and motor block being supplied separately.
Type of product
Oil filter system
Oil filter system for Daimler M256
The oil filter module combines an oil / water heat exchanger and split oil pressure regulation achieved by means of a hydraulic valve and a control piston, all in a compact form. The module housing made of die-cast aluminum is manufactured in the in-house foundry.
Type of product
Oil filter system
Model
C-Class, E-Class, S-Class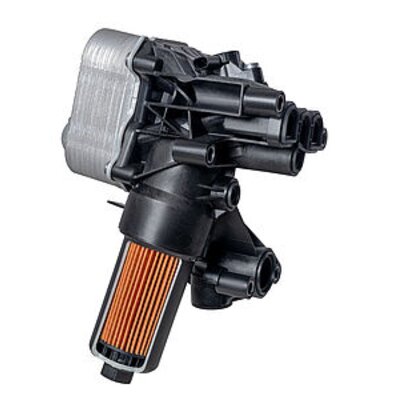 Oil filter system for VW EA288 MQB Evo
Compact, oil filter system integrates the functions of oil filtration, oil cooling, as well as fluid management. In a close system partnership with Volkswagen, the solid plastic module was developed and brought to series production readiness.
Type of product
Oil filter system
Model
Golf 8, Touran, and Tiguan
Oil filter module engine D28V
The oil filter module combines in a compact form oil filtration, oil cooling and crankcase ventilation with oil mist separation. The fluids and blow-by gases are conducted in the cast aluminum housing, which is connected to the engine without additional hoses.
Type of product
Oil filter module with integrated oil mist separator
Engine(s)
MAN V engine D28V
Model
Boat, train and marine applications
Contact
Do you have any questions? We're here to help.