Main filter and central filter
Filtration solutions for residential and commercial electrical appliances
We develop specific solutions for a broad range of vacuum cleaner types and applications, from private homes to building cleaning and construction sites. The combination of different media and designs (round or flat pleated filters as well as custom versions) allows an individual design for the optimum application.
Flat pleated filter, round filter or plate air filter
Depending on the requirements in the commercial sector, we additionally equip the filters, for example, water- and oil-resistant or fire-retardant for ash vacuum cleaners. Furthermore, you have the choice of filters for manual and automatic cleanability as well as washable versions. The efficiency of the filter is precisely matched to the respective application from IFA L to the high HEPA level.
In the private sector, vacuum cleaners contain not only dust bags or other dust containers, but also filters that need to be cleaned or replaced regularly. This is because dirt and dust do end up in the container or bag, but the separation of microparticles in particular cannot take place at this point. In bagless vacuum cleaners, a central filter is necessary in addition to the frequently installed cyclone separator to protect the turbine or drive from contamination and damage.
Advantages
Main filter and central filter – Your customer benefit at a glance:
Effective occupational safety & efficient household technology
Long service life and low-pressure loss ensure consistent cleaning power

Very low differential pressure for outstanding energy efficiency

Shorter set-up times due to reduced filter replacement

Fewer spare parts and less waste result in lower costs

HEPA filter ISO 29463 (formerly EN 1822) for special applications such as asbestos removal

meets the specific requirements of IFA (EN 60335-2-69) and OSHA (1910.1053 and 1926.1153)

Assessment according to EN 1822 / ISO 29463 is possible

Automatic or manual cleaning
References
Main filter Kärcher
Robust flat pleated filter especially for the ash and dry vacuum cleaner

Long lasting suction power

High efficient filter fulfills IFA H legislation

Suitable for hazardous dusts
Application
Wet- and dry cleaner
Main filter Nilfisk
PTFE-filter element with excellent cleanability

Washable PTFE filter element
Application
Professional wet-/dry cleaner for construction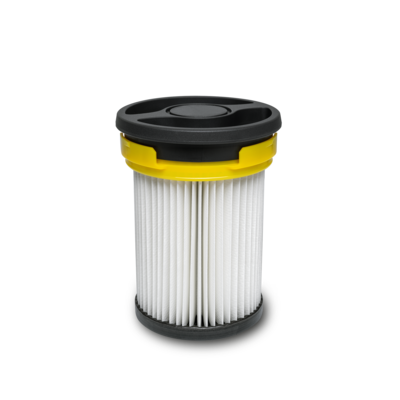 Main filter Miele
Cleanable main filter element through mechanical cleaning mechanism

Improved filter removal

Improved filter removal

Bagless system
Application
Household vacuum cleaner
Main filter BSH
Plastic filter cartridge and flat pleated filter with foam seal

Very durable filter

Low waste volume

Optional washable filter element can also be used

High quality plastic frame

Use of plastic recyclates possible

FSC certification available for cellulose media
Customer
BSH Hausgeräte GmbH
Application
Vacuum cleaner
Model
Series 6 bag vacuum cleaner
Video
Depth and surface filter in comparison with: In suction operation, a distinction is made between depth and surface filtration. Surface filtration means that the pollutants are deposited inside the medium, where they cannot be cleaned off by a pressure pulse, or only to a very limited extent. In cleanable filters, surface filter media are used where the filtered dust is deposited on the surface in the form of a filter cake and can be easily removed there, for example, by a pressure pulse.
Contact
Do you have any questions? We're here to help.